'Buy American' plan leads to ire, confusion
WASHINGTON (AFP) - The "Buy American" plan in US economic stimulus legislation is drawing increasing fire from US trading partners and also has led to confusion as government agencies try to implement the strategy.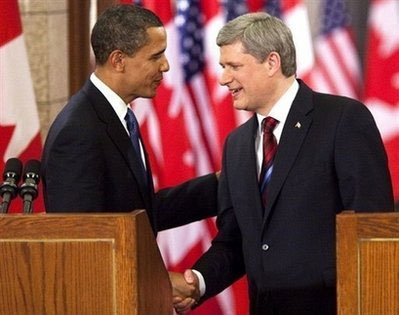 US President Barack Obama and Canadian Prime Minister Stephen Harper shake hands in Ottawa in February when Obama assured Harper a "Buy American" clause in his new economic stimulus law would not harm trade between the two - Photo: AFP/File/David Boily
Ironically, the measure is backfiring on some US firms that are being disqualified from contracts if they use non-American materials, and making it difficult to determine who can qualify, say some business leaders.
The plan was included by President Barack Obama's administration in the nearly 800-billion-dollar US stimulus package adopted earlier this year that required projects funded with stimulus money to use only US-made steel, iron and manufactured goods.
Singapore was the latest among key US allies such as Canada and Japan to express concern over the restriction, warning that it could "beget other actions and then cause the situation to snowball in the wrong direction."
The Buy American requirements were already facing retaliation from Canada and could cause job losses and decline in trade, essential to jolting the world's largest economy from prolonged recession, warned the US Chamber of Commerce, a top business lobby of more than three million businesses and groups.
"Some of these measures of course cause a lot of discomfort to many of us including Singapore," said Lim Hng Kiang, the island nation's trade minister, in Washington for meetings with trade officials and US lawmakers.
While Singapore was not directly affected by the restriction, the tiny trade-dependent state understood the concerns of countries hit by the action, he said, pointing out that some nations were exploiting "gray areas" in global trade rules.
"We are monitoring the situation very closely," Lim told reporters.
Without pointing at the United States, Lim said it might be difficult to pin down countries that took steps that bordered on protectionism at the World Trade Organization, the global trade watchdog.
The Buy American clause originally said that infrastructure projects designed to kick-start the US economy out of a languishing recession could only use US-made manufactured materials.
But it was later watered down to show that such procurement could only take place in a manner consistent with Washington's international treaty obligations.
Some businesses and officials complained the amendment is proving virtually meaningless in practice.
More than a third of the stimulus money is being disbursed by states and local authorities, which have not signed free trade accords such as the North American Free Trade Agreement (NAFTA).
Canadian manufacturers complained their goods were being shut out of contracts funded by the US stimulus money even though Canada, together with the United States and Mexico, was party to NAFTA, which prohibited discrimination.
"The Buy American requirements are having a major impact on projects administered by state and local governments, resulting in declining trade and lost jobs for American workers," US Chamber of Commerce vice president Bruce Josten said.
"This is particularly damaging to the US business relationship with Canada -- America's largest trading partner," he said in a letter to US lawmakers, asking them to reject the inclusion of Buy American provisions in any future legislation.
Josten cited as an example water and wastewater infrastructure projects which he said Canadian firms were now being excluded from.
"Retaliation by Canadian municipalities could result in three billion dollars in lost business for US water and wastewater equipment manufacturers," he said.
Josten also said that the Buy American rules were being interpreted in a way that barred even some US-based manufacturers from bidding on projects.
Many US manufacturers rely on global production chains that integrate components from US and foreign sources but are finding it difficult to comply with these new Buy American rules.
It is often impossible to avoid sourcing at least a portion of their content from other countries, Josten said.
"The timing and cost for this disruption -- coming in the midst of the worst economic recession in decades -- could hardly be worse for US manufacturers," he said.
"We are sending exactly the wrong signal to our trading partners, and a retaliatory spiral may already be underway."
Copyright © 2022 AFP. All rights reserved. All information displayed in this section (dispatches, photographs, logos) are protected by intellectual property rights owned by Agence France-Presse. As a consequence you may not copy, reproduce, modify, transmit, publish, display or in any way commercially exploit any of the contents of this section without the prior written consent of Agence France-Presses.