Ex-Arcandor CEO says investigating him unjustified
FRANKFURT, June 21 (Reuters) - Former Arcandor (AROG.DE) CEO Thomas Middelhoff, in an interview in Germany's mass circulation Bild am Sonntag, denied any wrongdoing in the context of the retailer's insolvency earlier this month and blamed the financial crisis.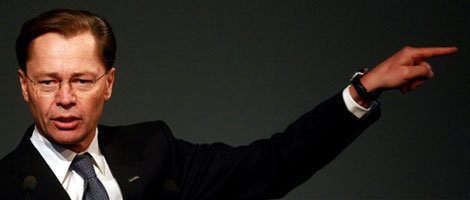 Thomas Middelhoff - Photo : Volker Hartmann/AFP
"I am convinced that we have been taking the right decisions since 2004," he told the paper.
"On the contrary, many people say that without me it would have been over already in 2004."
Prosecutors have launched an investigation about a possible breach of trust by Middelhoff, who headed the company from 2005 to March this year.
Shareholders have in the past criticised his holdings in a real estate fund that owns some of Arcandor's department stores.
Middelhoff told the newspaper he could not imagine why there was a probe.
He had acquired the holdings years before the took the job at Arcandor and the supervisory board had accepted that, he said.
He also said he could not understand why Arcandor had been denied its request for state aid. Some 43,000 jobs are at risk. (Reporting by Vera Eckert; Editing by Rupert Winchester)
© Thomson Reuters 2022 All rights reserved.