Arcandor's Quelle unit gets debt reprieve
FRANKFURT, June 19 (Reuters) - The insolvency administrator of German retailer Arcandor (AROG.DE) has reached an agreement with banks to secure for now the future of Arcandor's stricken mail-order business Quelle, the official said on Friday 19 June.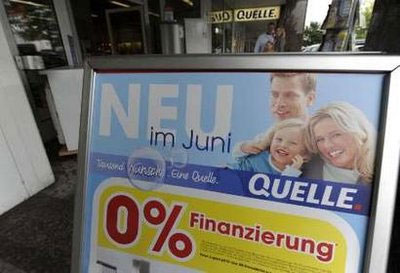 Photo: REUTERS/Wolfgang Rattay
Klaus Hubert Goerg said he struck a memorandum of understanding with banks which meant Quelle would be able to continue to operate and start printing its autumn/winter catalogue -- crucial for its business.
Publication of the catalogue was at risk as Quelle ran out of money to pay for the printing after its factoring bank cut the company off last week.
Goerg has been in talks with the German government and the state of Bavaria for loan guarantees of about 50 million euros ($69.61 million) and Bavaria has already agreed to take part.
Quelle is based in the Bavarian town of Fuerth.
German newspaper Sueddeutsche Zeitung said a 300 million euro ($417.6 million) bridge loan for Quelle's factoring bank was also being discussed.
Negotiations were continuing on Friday 19 June and a source close to the matter said it was not clear whether the federal government would come to a decision on Friday 19 June.
Parent company Arcandor filed for insolvency last week after the German government rejected its calls for state aid, saying its owners had not pitched in enough money to mount a joint rescue for the group.
(Reporting by Matthias Inverardi and Gernot Heller)
© Thomson Reuters 2023 All rights reserved.