Arcandor shares fall ahead of govt aid decision
FRANKFURT, June 8 (Reuters) - The German government is expected to decide on Monday 8 June whether to let stricken German retailer Arcandor (AROG.DE) live or falter.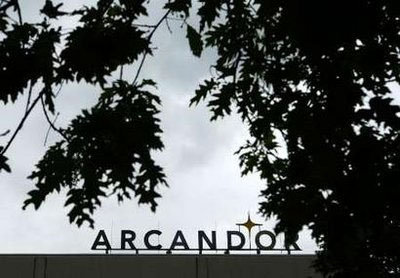 Photo: REUTERS/Ina Fassbender
Arcandor shares were indicated 18.6 percent lower, according to pre-market data from brokers by 0651 GMT. The German stock market officially starts trading at 0700 GMT.
"Fear of an imminent bankruptcy should burden shares," said a Frankfurt-based trader.
Arcandor said on Sunday 7 June it would have to file for insolvency on Monday 8 June if the government turned down its request for aid.
A government committee is due to meet on Monday 8 June to discuss Arcandor's request for a 437 million euro ($610.1 million) loan from state development bank KfW [KFW.UL].
Arcandor held talks over the weekend with rival Metro (MEOG.DE) and other parties involved to discuss possible solutions such as a merger of Arcandor's and Metro's department stores -- a precondition the government had set to consider aid.
All sides agreed on Sunday 7 June to enter concrete talks to create a new department store company, for which all parties were willing to make substantial contributions, the companies said.
Germany's Finance Minister Peer Steinbrueck affirmed owners and shareholders of Arcandor had to do their share, echoing earlier such calls from other cabinet members.
"If (certain) questions are not resolved, an insolvency plan is not ruled out as a last option," Steinbrueck told ARD television.
An Arcandor spokesman said the company had been in talks the whole weekend and did not know what else it could do to receive state help. "We are fighting to the last minute," he said.
Government sources told Reuters that Berlin would likely turn down Arcandor's earlier request for 650 million euros in loan guarantees from the German bailout fund, along with a 200 million loan from the state development bank. (Reporting by Eva Kuehnen and Kerstin Gehmlich in Berlin; Additional reporting by Christoph Steitz)
© Thomson Reuters 2022 All rights reserved.