Balenciaga pays hommage to first punk generation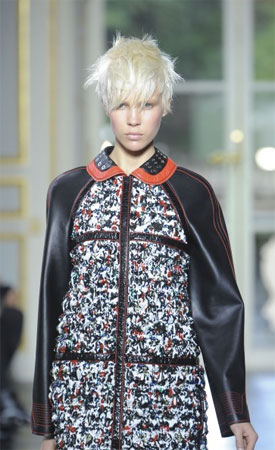 Balenciaga S/S 2011 at Paris Fashion Week. Photo : Pixelformula
PARIS, Sept 30 (Reuters) - The punk look epitomised by the Clash and Sex Pistols back in the late 1970s is back and at
Balenciaga
, it rocks with the added couture touch of sequins and chic embroidered leathers.
Nicholas Guesquiere, the brand's designer known for his futuristic allures, this time looked to the past with a collection of perfectos, or short leather jackets, black leggings and Dr.Martens-style boots.
"We thought we had gotten rid of the perfecto, but it's back," said
Maria Luisa
Poumaillou, fashion consultant for the
Printemps
department store, where she has a boutique on top of her own Maria Luisa shops in Paris, Hong Kong and Qatar.
"He (Guesquiere) is the only man who can make couture out of street wear, he is really ahead of everybody else."
The punk chic look, as fashionistas call it, can work with the right dosage of modernity and elegance, as proven by the success of
Balmain
, under the stewardship of
Christophe Decarnin
.
Like Decarnin, Ghesquiere has been infusing new life into what used to be a sleepy brand and took the risk of reinventing the fashion house's style.
For next season, Ghesquiere played back to the future with super-imposed sleeveless tops, studded leather jackets, shiny black leggings and metallic blue half-opened boots.
"These (women) are the children of the punk generation, or what is left of the idea of punk," Ghesquiere told Reuters of his 2011 spring/summer collection.
"They are also very tomboyish, very masculine."
Actress Charlotte Gainsbourg, Ghesquiere's muse and the face of the fashion company's first perfume launched this year, recognised herself in the new collection, he said.
"Charlotte found a lot of herself in it. It is normal as I ask her a lot for her advice," Ghesquiere said.
On the front rows of the glitzy Crillon Hotel, also sat actors Catherine Deneuve, Orlando Bloom and Salma Hayek, wife of Francois-Henri Pinault, chief executive of the PPR (PRTP.PA) group which owns the Balenciaga brand.
Balenciaga is one of PPR's fastest growing brands. About three years ago, it was elevated to the status of a main strategic brand within the
Gucci
Group alongside Gucci,
Bottega Veneta
and Yves Saint Laurent which means that more resources were allocated to it.
The fashion house has been part of Gucci Group since 2001 and profitable since 2005.
(Reporting by Astrid Wendlandt; Editing by Matthew Jones)
© Thomson Reuters 2023 All rights reserved.