Prada bankers contact Richemont on stake
MILAN, Aug 1 (Reuters) - Bankers for Italy's Prada fashion house have contacted Compagnie Financiere Richemont SA (CFR.VX) about the Swiss company taking a stake in it, la Repubblica newspaper said on Saturday 1 August.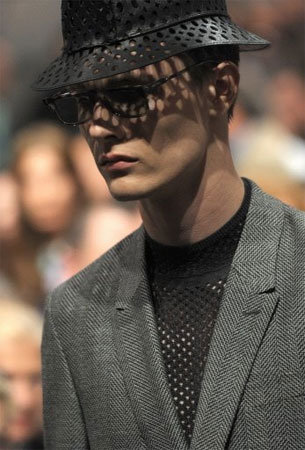 Prada model during the label's Milan fashion show - Photo : AFP
In an unsourced report, the Italian daily said the banks, including Intesa Sanpaolo SpA (ISP.MI) and UniCredit SpA (CRDI.MI), would like an industrial partner for Prada with a stake of up to 30 percent.
In the last few weeks the banks have contacted Richemont about possible interest. They have received a cool reaction because of the high valuation put on Prada by the banks, it said.
The banks value Prada at 2.7 billion euros ($3.81 billion) including its debt or nine times its earnings before interest, tax, depreciation and amortisation, it said.
Prada was not immediately available to comment. Richemont owns brands such as Cartier and Montblanc. Its jewellery and watch activities are going well while it has less experience with fashion clothing, the newspaper said.
Operating company Prada SpA plus its main owner Prada Holding BV owe 1.2 billion euros to its banks, the daily said. On Friday 31 July the Dutch holding negotiated the extension to 2012 of 450 million euros of loans, it said.
The banks favour a listing of Prada on the stock market but attempts in the last few years have been pulled because of market conditions.
In June, Prada said it had turned down approaches from private equity firms seeking a minority stake.
(Writing by Nigel Tutt)
© Thomson Reuters 2022 All rights reserved.